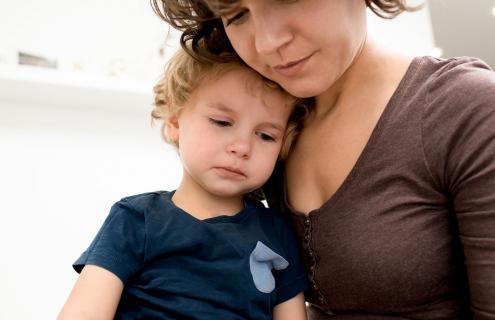 Many families have faced significant hardship due to the pandemic, some with financial barriers to catching up on their kids' healthcare this summer. If this is the case for you, Ruth Abbott, Family Resource Counselor, is in your corner.
"I've been working with local families at Cheshire Medical Center, helping them apply for insurance and services for twenty years now," Ruth says. "I have a regular caseload—people who come to me year after year—but I've helped a lot of new people this year too."
Working together to find what you need
Ruth screens families to see what they may need and what services are available to them, based upon their income and family size. She says, "many people are surprised by the help that's there."
When someone receives a serious diagnosis or is facing many different problems at the same time, Ruth can work together with her colleagues at the Center for Population Health.
"I work with a really great team, and if I have a question, I'll pick up the phone and the team will put our heads together to figure out a problem," she says. "There have been very few problems we haven't been able to help with."
Recently, the team worked with someone diagnosed with cancer whose health insurance was lacking. Ruth explains, "together, we applied for additional plans and worked with the cancer center to cover many costs. The Cheshire Health Foundation raises a lot of money from people in our community to help cancer patients treated here. We help people figure out how to pull resources together so they can concentrate on getting better."
Reducing medication costs
Haley Compos runs Cheshire Medical Center's Medication Assistance Program, working with drug companies to reduce the costs of very expensive medications. However, even the cost of regular medications varies by pharmacy.
"For families that have specific medication needs, I can sit down with them and shop around at local pharmacies to see which offers the best price for that medication—the prices can be very different," says Ruth. "Saving a hundred dollars or more each month on a prescription can make a huge difference."
Low or no-cost insurance and lowering premiums
If you are struggling but don't qualify for Medicaid, there may be other options. The team can help you get health insurance quotes through healthcare.gov for low or no deductible, for low or no cost.
"We are used to navigating the website and the different plans so we can work through it with you, give you the pros and cons of plans for your specific medical situation, and help find the best plan for your needs. Even though we can't pick the plan for you, I try to make sure you understand what you are getting."
For families who buy insurance this way, reapplying now could save you a lot of money too.
"Many people don't know, but the Biden administration increased the subsidies for insurance premiums through healthcare.gov and kept open enrollment open until August 15th." Ruth explains, "almost every family I have reapplied within 2021 has found their premiums reduced for the same insurance they got through the Marketplace back in November."
Call first for help
Due to the pandemic, Ruth has mostly been working from home, helping people over the phone. However, she is available one day per week on the Medical Center's campus.
"Many people were used to walking into the building in the back employee parking lot to find me. I'm not there anymore, but I'm still here to help! You just need to give me a call."
For more information, visit our Family Resource Counseling page or call Ruth at 603-354-5454 ext. 2792.