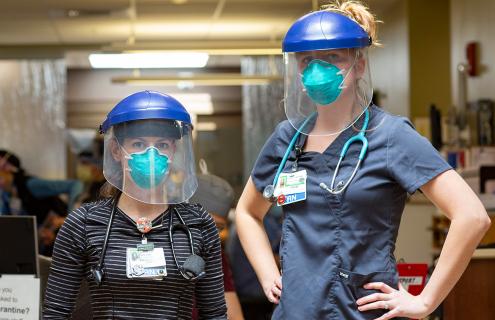 We are living in serious times. But the nurses in Cheshire Medical Center's Emergency Department (ED) have always taken their job seriously as they care for each and every member of the community.
"We really care about our patients," says Chastity Hodgson, a registered nurse (RN) in the ED. "We have family and friends in this community and they could be the ones who need us."
A circle of care
Though being an ED nurse during a pandemic has some extra challenges, both Hodgson and her fellow RN Ashley Thompson are driven by a deep sense of purpose to care for their patients.
"This is the cloth I'm cut from," says Thompson. "I love my job, I am an ED nurse through and through."
She and Hodgson both realize they also need to take care of themselves when they're not at work, whether that's gardening, hiking or just hanging out with a beloved pet.
Thompson says the folks at Cheshire Medical Center have been happily overwhelmed, too, by the support they have received from the community that they care so much about.
"People have been incredibly kind," says Thompson. "We have had so many donations of masks and supplies. People are sending us flowers, food, plants. The community has been amazing."
ED providers and other front line staff also recognize that the community has been taking care of them by doing their part to flatten the curve of infection. As community members practice social distancing, wash their hands frequently and thoroughly, and wear face masks, they reduce the potential for widespread COVID-19 infection and the possibility of overtaxing healthcare resources.
This sacrifice is an enormous, meaningful, and deeply appreciated gift for front line staff like ED nurses, Cheshire Medical staff as a whole, and the health and safety of the Monadnock region.
Connecting with patients in distress
Hodgson and Thompson are both fully committed to providing emergency care to every patient that comes to the ED, whether the visit involves COVID-19 or not.
"What we do hasn't changed," says Thompson. She notes that, pandemic or not, people still come in for urgent health care, including broken bones, heart attacks, strokes, and diabetic emergencies. "What has changed is how we approach it."
Part of that change is wearing personal protective equipment. This includes scrubs, gown, gloves, facemask, and clear plastic shield.
Thompson notes that it takes time to don and remove the gear. But the facemask and shield can also make it tough to communicate with someone who is in pain or in distress.
"Sometimes it's hard for a patient to hear us, and all we see of each other is the eyes," says Hodgson.
Thompson points out that people are typically stressed when visiting an ED in usual times. The pandemic adds a new layer of anxiety, particularly as families must remain out of the room in order to prevent the potential spread of infection.
"It's just us and them because their families can't come in like normal," she says.
The nurses make an extra effort to tend to every patient. Whether that's leaning in to speak or to listen closely, or just taking a moment to lay a soft hand on a patient's shoulder, they respond to their patients' emotional needs for safety and connection.
Commitment to safety and community
For Thompson and Hodgson, the coronavirus-related precautions are part of the big picture. Hodgson says, "It's all about safety—for our patients and also for ourselves, so we can continue to come to work and care for our community."
That commitment to service is a hallmark of the vocation of nursing, and part of the reason the World Health Assembly designated 2020 the International Year of the Nurse and the Midwife.
Thompson and Hodgson are ready for whatever comes their way. "Even in normal times, we're always exposed to hazards. It's the reality of being a nurse. This is part of the job," Hodgson says.
And it's a job both nurses are proud to do for the community they call home.
If you are experiencing a medical emergency, calling 911 will get you the fastest pre-hospital care, whether or not you have COVID-19. Our staff ask that if you think you may have COVID-19 and plan to arrive at the ED by any means other than via ambulance, please call the ED first at (603) 354-6600.
If you think you may have COVID-19 and your medical problem is urgent but not life-threatening, so you choose Cheshire's Walk-In Care Clinic for treatment, please call them at (603) 354-5484 before you arrive.
Calling ahead helps us provide you the appropriate high-quality care you need, as quickly as possible.