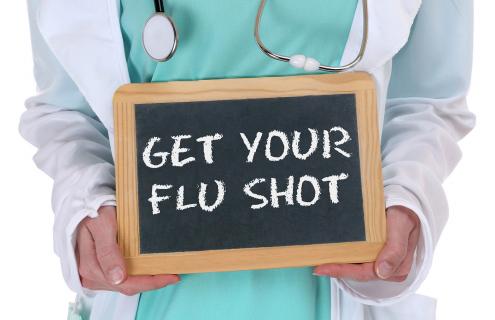 Thousands die each year from the flu and related complications. Those most at risk are the elderly, young children, pregnant women, and people with chronic health conditions like asthma, diabetes, cardiovascular disease, or immune systems suppressed by disease or medications. Even if being out sick for a few days doesn't worry you, it could potentially threaten the life of someone you come in contact with once you have it.
Get your annual flu shot—the earlier, the better
Because COVID-19 continues to pose a serious threat our health, this year it is more important than ever to get your annual inactivated (killed) vaccine, or flu shot. The flu shot does not cause the flu, can be taken even if you have a light cold, and takes about 2 weeks for protection to develop. This vaccine is developed to protect against the three or four viruses expected to be the most common during this year's flu season.
Read about Seasonal Flu and COVID-19 on the CDC website.
Drive-through flu shot clinics
This year, Cheshire Medical Center's drive-through flu shot clinics are by appointment only. The easiest way to make an appointment is by logging into myD-H or the MyChart app on your mobile device.
Flu and COVID-19 vaccines
According to the CDC, it is safe and effective for you to receive a flu and COVID-19 vaccine on the same day. If you are not already vaccinated against COVID-19, you can make an appointment for each vaccination during the same weekend.
Schedule your vaccination appointment today
Additional flu shot availability
If you cannot attend one of the upcoming drive-through clinics, you can also receive your vaccination at the following locations:
Cheshire Medical Center Pharmacy: you do not need an appointment to receive a regular or high-dose flu shot at the pharmacy in our Medical Center's main lobby. Just walk in!
Primary Care: ask for a flu vaccine during any scheduled family medicine or pediatric appointment.
Primary Care Urgent Visits: Our providers offer flu shots to patients during urgent visits.
Many local pharmacies also offer flu shots