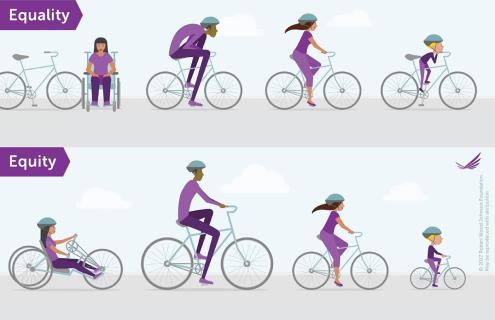 As a non-profit, Cheshire Medical Center's mission to advance the health and wellness of the Monadnock Region to the individuals and communities we serve is foundational.
"Population health is about everybody; our people—all staff, and our community—all residents and visitors in the area we serve," says the Vice President for Population Health at Cheshire, Shawn LaFrance, MSUP, MPH, who participates in Cheshire's Diversity, Equity, Inclusion, and Belonging (DEIB) Program Committee.
"In 2019, Cheshire undertook a DEIB assessment to identify opportunities for improvement," Shawn says. "Our Board of Trustees established a framework with approval of a resolution that 'recognizes a commitment to diversity and inclusion as a priority for this organization and the adherence to the principle of health equity across our campus and its satellite locations.'"
Cheshire's DEIB Program Committee is comprised of staff of different ages, races, and ethnicities, genders, parental statuses, educational backgrounds, and religious or spiritual practices, who work together to understand our community's diversity and its importance to our commitment to deliver excellent, compassionate care in a safe and well-run environment.
The Committee has three goals to integrate this important work into the organization's current strategic plan:
Develop new education and training opportunities to increase awareness of DEIB at the leadership and staff levels.
Identify employee and patient-related policies from a DEIB perspective to identify gaps or necessary updates.
Participate in strategies with external partners in the region that we serve to encourage our communities to be inclusive and welcoming.
Diversity
As the population Cheshire serves changes and becomes more diverse, their needs also change. Gaining a deep understanding of our current community is especially important in delivering quality health care because health needs vary by age, among racial/ethnic groups, socio-economic levels, and other factors. Diversity in recruitment, education, and retention of employees also supports our organization's sustainability in a changing environment. Welcoming and supporting a diverse staff is essential to achieving our mission.
Equity
Health equity is emphasized because everyone needs a fair opportunity at being as healthy as they can be. There is ample evidence that health disparities persist despite legal requirements establishing equality in law.
Inclusion
Inclusion is integral to this work, emphasizing an intentional, active engagement with the diversity that exists among people who are part of the care team and with the patients and visitors we serve. It is a process that goes beyond passive acceptance of someone different than oneself.
Belonging
Belonging is the feeling of security and support. It binds a community, drives engagement, and supports resilience. Belonging is the desired outcome of an environment where inclusion is a priority.
Understanding the data
Beyond the broad range of personal identities and backgrounds of our DEIB committee members, their efforts are driven by and grounded in understanding the ever-changing demographics of the 76,458** residents in Cheshire County.
For example, our county's net population has declined since 2010, with children age 17 years or younger declining by 17.8%—but the population age 65 years+ increased by 48%. The largest racial/ethnic group in 2020 was non-Hispanic White at 93.8%, with the population of other racial/ethnic groups increasing by 32% to 4,741 people. These changes affect the services our community members need to achieve health and well-being.
"Other sources of information are vitally important in this work too. We are fortunate to have observations and recommendations from the 2021 report from the City of Keene's Racial Justice and Community Safety Committee," says Shawn. "This underscored the importance that all community members understand that all people are harmed by racism and it takes the whole community to make changes to improve equity and inclusivity."
The Committee heard from people speaking at public forums about their lived experiences and the importance of more community education. Overcoming racial inequity and bias in Keene will require disrupting local complacency to expand the knowledge base of everyone in the community.
Another source for this work is the Institute of Medicine's seminal report 'Unequal Treatment: Confronting Racial and Ethnic Disparities' and recent research on the importance of addressing disparities in promoting health and providing healthcare services, which COVID-19 highlighted across New Hampshire and the nation. Providing high-quality health care in our community and good patient outcomes is Cheshire Medical Center's core mission.
What are we doing with this information?
"The DEIB Program Committee has participated in a series of education programs, examined findings from the organizational assessment, and created three sub-groups to increase DEIB awareness within the medical center," says Shawn. "These groups are planning events, education, and discussions across the Medical Center for the upcoming year."
The group's external goal is to contribute to the new Monadnock DEIB Coalition — connecting the efforts of multiple organizations and people throughout the region.
Shawn is enthusiastic about the support the DEIB Program Committee has received so far across the Medical Center. He says "There is a role for everyone in better health and well-being for all!"
** according to the 2020 US Census.