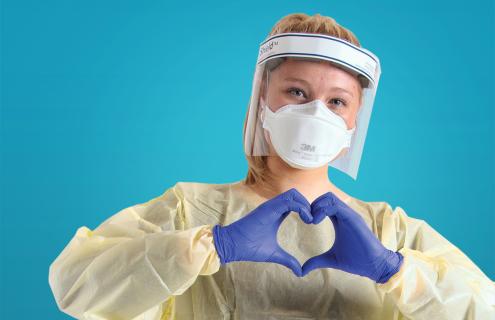 Cheshire Medical Center is dedicated to advancing the health and wellness of this community through a combination of outstanding care and exceptional service. However, those who care for the health of our community need your help to end this pandemic, prevent a surge in cases, and ensure quality medical care continues to be available to all who need it.
The ongoing pandemic has tested the resilience of every health care worker, especially those on the front lines. Many have considered leaving or left the medical field nationwide over the last 18 months.
Those who remain are doing everything they can to provide people in our community with the quality medical care they need. There has been an increase of COVID-positive patients fighting the highly contagious delta COVID-19 variant. But there are proven ways to reduce the transmission of COVID and health care workers ask that you do all you can to help our community.
Delta is different—it is very contagious. People infected with this variant of COVID-19 are likely to spread it to twice as many people as the original strain. It has caused the worst surge in people hospitalized with COVID-19 the Medical Center has seen so far, with the number of patients remaining high longer than during other surges. It is normal for the number of patients in Cheshire's ICU to fluctuate rapidly and several protocols are in place to help if it becomes overwhelmed. However, healthcare professionals want to avoid the difficult choices others around our nation need to make and to ensure high-quality care is always available for all who need it.
Delta is infecting and causing severe illness in younger people than the surge in January, with over half of those hospitalized with COVID at Cheshire in the last two months below the age of 55, according to Aalok Khole, MD, infectious diseases specialist at Cheshire.
Delta can cause breakthrough infections, with 3% of New Hampshire's COVID infections between January and September in vaccinated people, according to data from state health officials.
Therefore, we need to take proven safety measures more seriously than ever. We now know what works:
Vaccinations not only reduce infection but significantly reduce an infected person's likelihood of being hospitalized or dying.
Wearing a well-fitting mask in public places or with those at high risk reduces infection from people who don't have symptoms yet.
Good ventilation and social distancing, such as spending time with friends outside, are proven to reduce the transmission of the virus through the air.
Washing your hands thoroughly and often reduces transmission of this virus and others.
Staying home and isolated if you are sick is imperative to preventing community transmission.
Dr. Don Caruso, family medicine provider and CEO of Cheshire Medical Center recently explained in an interview on WKBK, "I'm a scientist, I'm a physician, I believe in data, but I'm also a gestalt guy. I also look at what I see with my own eyes. I live here in Keene and what I see now is very different from what I saw back in January, where everybody I saw was masking whether it was mandatory or not. People took it to heart that masking made a difference. Now not so much. Even older people who should be masking, even if they're vaccinated, they're not wearing their masks."
I'm a scientist, I'm a physician, I believe in data, but I'm also a gestalt guy. I also look at what I see with my own eyes…we see vaccination makes a big difference.

Don Caruso, MD, family medicine physician, president, and CEO of Cheshire Medical Center
As with other vaccines, it is possible to contract COVID-19 after being immunized. Such cases are rare and viral symptoms are typically milder. With fully authorized vaccines that are proven safe and effective against severe illness and death from COVID-19, anyone still hesitant about being immunized should talk to their health care provider about their concerns.
"What I see now is far too many people who wouldn't need to be in the hospital if they were vaccinated," Dr. Caruso recently told the Keene Sentinel. "It is important for us to remember that there are no absolutes, which is why there's no vaccine that's 100% effective in preventing disease for not just COVID, but polio, and all the other viruses. But in reality, what do we see? We see vaccination makes a big difference."
Most breakthrough cases occur in people with weakened immune systems, which is why third shots are available for the severely immunocompromised, and the first wave of booster shots are becoming available for older people and frontline providers who care for COVID-positive patients.
"The people who are vaccinated have better outcomes," Dr. Caruso says.
Please do your part to stop the COVID-19 delta virus strain from continuing to surge in our region. Help keep hospital beds available for all who need them.
Learn more about the delta variant from the Centers for Disease Control and Prevention.
Learn more about exposure and symptoms, vaccination, and self-scheduling COVID-19 testing via myD-H.