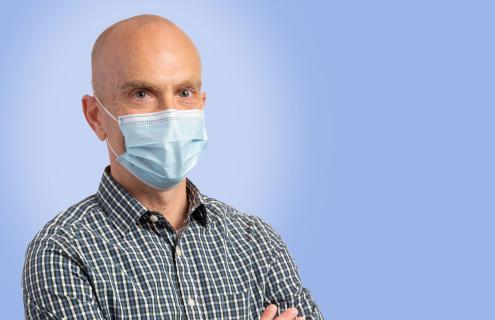 I enjoy helping people achieve their goals. We're tackling many challenges facing our community by creating innovative solutions to address them.
David Potach, PT
David Potach, PT, chose to relocate from Omaha, Nebraska, to be director of rehabilitation at Cheshire Medical Center for numerous reasons—from geography to the opportunity to mentor other skilled therapists. "I liked the idea of helping to lead a program by developing new services, adjusting processes, and helping those who work with me achieve their personal and professional goals."
David came with more than 20 years of experience as a physical therapist (PT), managing groups and developing programs for most of that time. He was thrilled to discover that Cheshire's Rehabilitation Department offers a high concentration of skilled therapists and offers great mentorship opportunities—in addition to a professional yet friendly atmosphere for career development.
There is no specific template as to what job happiness means to all. It's been a pleasure learning what it means to each person on my team, then helping to achieve that.

David Potach, PT, director of Physical Rehabilitation at Cheshire
In addition to managing day-to-day activities, David's work as director involves planning, implementing, and developing new services like the speech team's new fiberoptic swallowing evaluation. Strategic planning is also underway for an expanded and newly-renovated Outpatient Rehabilitation Department in Cheshire's recently-purchased secondary campus in Keene. The Medical Center's expansion offers David an excellent opportunity to encourage continuing education for Cheshire's existing team and the recruitment of skilled therapists to meet the community's needs.
He enjoys leading his team to where they want to be, focusing on the needs of patients while incorporating the ideas and expertise of Cheshire's talented staff. He finds this makes work more meaningful for the team and results in better outcomes for patients.
"I enjoy helping people achieve their goals," he says. "Sometimes that is staff, sometimes patients, sometimes peers. Together we're tackling many of the challenges facing our community by creating innovative solutions to address them. These include treating acute and chronic injuries in children, preventing sports injury, and educating the community on the importance of healthy lifestyles to reduce injury and illness."
When he is not working, David enjoys running and spending time outside with his five children. Both activities are well-supported by Keene's outdoorsy and family-friendly community. He also likes that his home is a short driving distance to some of the most unique cities and inviting cultural centers in eastern North America, including Boston, New York, and Montreal.
"I love Omaha and would have only left for a handful of places; New Hampshire was one of them," says David. "The Keene community provides diverse experiences from outdoor recreation—hiking, mountain biking, running—to cultural attractions. The pursuit of outdoor activities is part of the lives of so many in the area. It is a wonderful place to attend to both family interests and recreational activities."
At Cheshire Medical Center, we are always looking for great people to join our diverse team, from physical, occupational and speech therapists to environmental services technicians and surgeons—it takes a village to staff a hospital. To learn more and view open positions, visit our careers page.