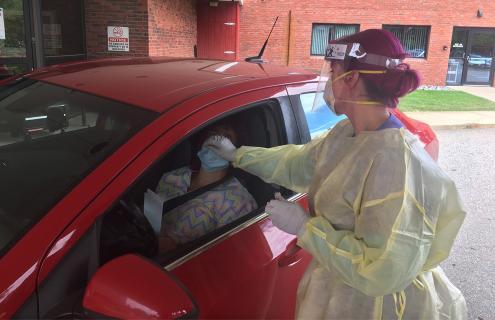 For the most up-to-date information about Cheshire's COVID-19 Community Testing program, please visit the COVID-19 Community Testing FAQ page.
Cheshire Medical Center is a COVID-19 community testing site starting August 10, 2020.
A provider referral is not required. Tests will not be administered without scheduling an appointment in advance.
How to schedule
Community members seeking a test can request an appointment by calling or emailing. We'll return your email or call within 2 business days.
To request an appointment, please do ONE of the following:
Fill out and submit this online form. This is the best way to request an appointment.
Call Cheshire Medical Center's COVID-19 Community Testing information line at 603-354-6700. For information in Spanish, call 1-833-625-9604 and a Spanish interpreter will answer and interpret calls.
Appointment times
Drive-through testing appointments will be scheduled Monday through Friday from 1:00 to 4:30 pm and will take place at the West Entrance of our main campus, 580 Court Street in Keene, NH.
Billing procedures and costs
Cheshire will bill your insurance. If you don't have insurance, we'll help you apply for the NH COVID-19 Testing Benefit. Nobody will be turned away based on ability to pay.
This initiative was financed under a contract with the State of New Hampshire, Department of Health and Human Services, with funds provided in part by the State of New Hampshire and/or such other funding sources as were available or required, e.g., the United States Department of Health and Human Services.