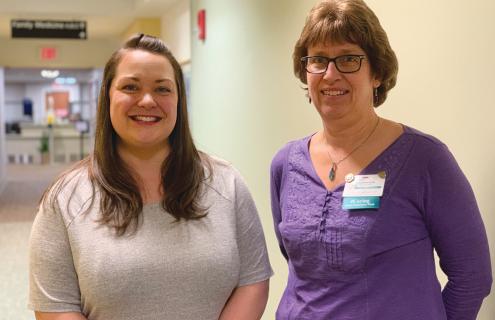 Accidental urine loss when you laugh, sneeze, or have a strong urge to pee is not an inevitable part of aging — even for women, who make up 85% of the twenty million Americans suffering from involuntary loss of bladder control. In fact, there is a range of solutions that can significantly reduce and sometimes eliminate this common problem.
While you may feel shy addressing pelvic health problems with your Primary Care Provider, resolving many of these problems can have a significant effect on your quality of life and emotional well-being. That is why professionals in the Women's Health and Urology departments, as well as outpatient Physical Therapy (PT) are collaborating closely to address incontinence, overactive bladder, and other pelvic health issues like prolapse, constipation, and sexual dysfunction.
I assess patients and can recommend behavioral changes or use of assistive devices, and frequently I refer women for PT. For some patients, when appropriate, we consider medications or surgery.
There are solutions to these common problems, but sometimes the biggest challenge is just starting the conversation.

Lindsey Cushing, APRN, WHNP-BC, of Women's Health
Janet Chamberlin, PT, WCS, has practiced physical therapy at Cheshire for over 30 years and became a Certified Women's Health Clinical Specialist six years ago. In addition to working with pregnant and postpartum women, Chamberlin treats pelvic floor disorders in both women and men. "These are sensitive, sometimes embarrassing subjects for some people, so we have a dedicated therapy room to ensure privacy and discretion in a supportive and comfortable environment," Says Chamberlin; there is no one 'right way' to get help, "our collaboration varies according to each patient's needs."
If you are ready to make an appointment, please talk with your primary care provider about what referral would be right for you.