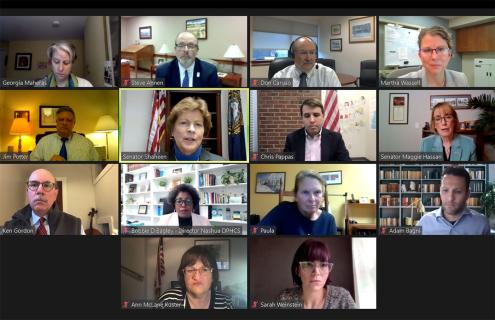 Update: According to WMUR on Nov. 10, 2021, the New Hampshire Executive Council voted to accept and spend more than $22 million to help increase vaccination rates in New Hampshire. Their earlier decision in October rejected all but $4 million of those funds. The funding now needs to be approved by the House Fiscal Committee which is scheduled to meet on Nov. 19.
President and CEO of Cheshire Medical Center, Dr. Don Caruso, joined a press conference this week with U.S. Senators Jeanne Shaheen (D-NH) and Maggie Hassan (D-NH) and Representatives Annie Kuster (NH-02) and Chris Pappas (NH-01) to discuss the urgent need for federal vaccine funding in the state of New Hampshire.
Two weeks ago, the Executive Council doubled down on their vote to reject $27 million in funding already allocated to New Hampshire to bolster the state's vaccination efforts. Caruso and the delegation discussed how this rejection of critical funds hampers efforts across the state to turn the page on this crisis, particularly as COVID cases and hospitalizations continue to surge in New Hampshire.
"We need the funding, in terms of giving vaccines, but also in terms of educating," said Caruso, "There are people out there who I believe are still persuadable." He said the rejection of the funds for staff and supplies to support public health clinics and state efforts at continued vaccinations comes at an unprecedented time for the state's health care industry.
The state is facing a high plateau of COVID-19 cases, which is going on for an extended period of time and putting pressure on resources and staff.
"At the same time, we actually had a lot of patients who have delayed care, and physicians are seeing much sicker people and far more volume that they cannot tolerate with staff exhausted," Caruso said.
"This is really problematic," he said, "with health-care workers moving patients around the state daily to find places for their care and, in some cases, curtailing elective surgeries."
"New Hampshire is one of four states with the highest numbers of infection rates…We need help, and sadly what we saw from the Executive Council was a total disregard for the safety of the residents of New Hampshire," said Senator Shaheen in the press conference. "The reality is – we've done our jobs. The federal delegation got the money that the State of New Hampshire said it needed."
"COVID-19 is continuing to rage in our state and across the country. In New Hampshire, we're still seeing hundreds of new cases on a daily basis — and sadly, we continue to see new deaths," said Senator Hassan. "We have to keep our pedal on the gas and continue increasing our state's vaccination rate. That's why the decision by the Executive Council to reject this $27 million in federal funding is so misguided and so dangerous."
"As COVID-19 cases are rising throughout New Hampshire — including in our schools — and hospitalizations are at the highest rates since vaccines became widely available, it was shameful for New Hampshire's Executive Council to reject $27 million in federal support our Delegation championed to enhance vaccination efforts and put this virus behind us," said Rep. Annie Kuster.
Proven safety measures with accurate information can protect the community including:
Vaccinations not only reduce infection but significantly reduce an infected person's likelihood of being hospitalized or dying.
Wearing a well-fitting mask in public places or with those at high risk reduces infection from people who don't have symptoms yet.
Good ventilation and social distancing, such as spending time with friends outside, are proven to reduce the transmission of the virus through the air.
Washing your hands thoroughly and often reduces transmission of this virus and others.
Staying home and isolated if you are sick is imperative to preventing community transmission.
Learn more about how the Delta COVID-19 variant is impacting our community, and COVID-19 vaccination.