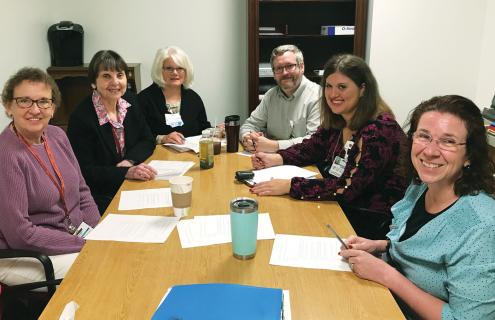 Throughout New Hampshire, healthcare organizations, state agencies, and advocacy groups are working together to support the mental health needs of the state's residents. At Cheshire Medical Center, a Behavioral Health Team (BHT) provides healthcare plans that support patients' mental health needs. The BHT serves as a network of specialized supports, woven throughout various areas of care. Together, with the behavioral health professionals in patient care teams, the BHT is a component of serving the mental health needs of the patients of Cheshire Medical Center.
Psychiatrist Judith Olson, MD is the Medical Director of Cheshire's Behavioral Health Team. In addition to providing psychiatric consultation services to the primary care providers at Cheshire for children under 18 years of age, Dr. Olson oversees the BHT's services on the inpatient units of the medical center and in the Emergency Department (ED).
Often times, emergency departments serve as both a lifeline and an entry point to psychiatric care. The BHT works in partnership with Monadnock Family Services, a non-profit community mental health center in Keene, and ED providers to evaluate patients in behavioral health crisis, and provides continued support for patients awaiting placement in an inpatient facility.
Injuries and medical illnesses can exacerbate mental health concerns. Patients with behavioral health needs admitted at Cheshire receive compassionate support throughout their journey. The BHT provides essential services to patients and their care teams. "Our focus is on integrating care and providing education to patients, families, and staff," explains Sara Gilbert, Psychiatric APRN and BHT Program Coordinator.
Behavioral health conditions don't go away when other medical conditions occur. The BHT works with inpatient physicians and care teams to provide medication consultations and recommendations for the treatment of patients displaying symptoms of dementia or mental illness. For some patients, the BHT provides acute, goal directed counseling, helping them navigate the stress that can be associated with an illness or severe injury. "It's stressful to be sick," notes Gilbert, "People may be dealing with a prolonged illness or terminal diagnosis. They can feel powerless, depressed, or anxious. We help them and their family to address their immediate needs, and if necessary, set up counseling supports after discharge."
In addition to the BHT, behavioral health is integrated into Cheshire's Primary Care‐Family Medicine teams and outpatient services. Primary Care Providers (PCP) who have identified behavioral health needs of a patient during an office visit receive "at‐elbow" support from Behavioral Health Specialists. These Licensed Clinical Mental Health Counselors (LCMHC) screen patients and initiate referrals to Psychiatric Nurse Practitioner, Kevin Hannon. Hannon collaborates as a psychiatric consultant with PCPs and members of the BHT, working to ensure patients' healthcare and treatment plans support their behavioral health needs, and he provides referrals for outpatient behavioral health treatment when needed. "This collaboration supports treatment using all resources, including psychotherapy and not just medications," says Hannon.
Outpatient behavioral health supports at Cheshire are not limited to Primary Care. Amanda Hitchings, PsyD supports multiple outpatient programs at Cheshire, including the Pulmonary Rehabilitation program and the Mothers in Recovery program through Women's Health, which provides medication‐assisted treatment for opioid use disorders with social and psychological supports during prenatal‐postpartum care.
Many patients and visitors are able to find comfort and emotional wellbeing through spiritual care in a time of crisis. The Pastoral Ministry department provides services to patients upon request, 24/7. The Pastoral Ministry team is led by Director of Pastoral Care, Interfaith Chaplain Bob Ritchie, and includes several clergy from various churches and faiths. Through the ministry's partnerships with local clergy in the community, the team works to meet the spiritual and religious needs of each individual seeking this support.