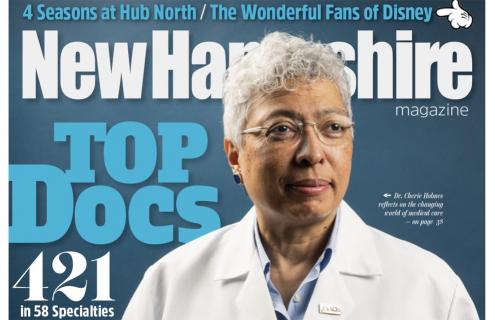 Twelve Cheshire Medical Center physicians have been named among the best doctors in New Hampshire, according to New Hampshire Magazine's annual "Top Doctor" survey conducted by the national research firm Castle Connolly. The March/April issue features Cheshire's Chief Medical Officer Cherie A. Holmes, MD, MSc, as the cover image and in a profile article where she reflects on the changing world of medical care.
"My personal motto is Ubuntu. In English, it means 'I am because you are.' It's an African philosophy based on common humanity or, as I understand it, the individual's relationship with family, community, and the world around them," Dr. Holmes said in the article. "I am a Black, female orthopedic surgeon. I am a chief medical officer. I have come to recognize that I am only who I am because of my family, my patients, my staff, my colleagues, and my community. I feel like the positivity, help, and strength I share and gain from all of them collectively is the greatest gift in my life. I am not particularly special. I am because they are."
New Hampshire Magazine recognized the following Cheshire physicians as "Top Doctors" in the March/April 2021 issue:
Cheshire is a member hospital of Dartmouth-Hitchcock Health (D-HH). A total of 115 D-HH physicians were named among the best doctors in New Hampshire in New Hampshire Magazine's annual survey. The recognized physicians are employed and provide services at Dartmouth-Hitchcock Medical Center in Lebanon and at D-H clinics around the state, Alice Peck Day Memorial Hospital in Lebanon, Cheshire Medical Center in Keene, and New London Hospital. They are named across 45 specialties, ranging from behavioral pediatrics and gastroenterology to nephrology and vascular surgery.
"Given the extraordinary challenges of this past year, I'm very proud of each and every one of our Dartmouth-Hitchcock Health physicians for their resiliency and dedication to caring for our patients against some incredible obstacles," said Joanne M. Conroy, MD, Dartmouth-Hitchcock Health CEO and president. "Being part of this list is an opportunity for our physicians to be acknowledged by their peers for their unwavering focus on delivering safe, high quality and exceptional care to our patients."
New Hampshire Magazine partners with the national research firm Castle Connolly to distribute surveys to every licensed practicing Granite State physician. The physicians are asked to nominate specialists who they would recommend to friends and family for treatment. Those receiving the most nominations are named as the top doctors and represent leading physicians in their respective specialties.