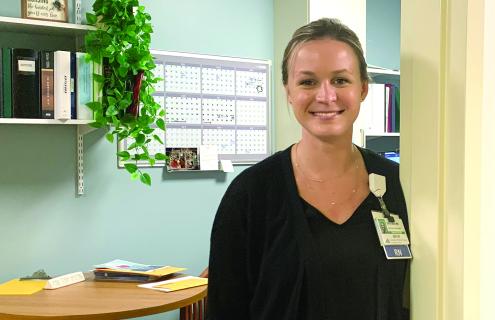 In the newest episode of Dartmouth Health's "The Cure Podcast," Erin Patnode, BSN, RN, and Mary Pierce, BSN, RN, infection preventionists at Cheshire Medical Center, discuss the latest in COVID-19 infection prevention strategies with hosts Jose Mercado, MD, regional medical director for inpatient quality at Dartmouth Health, and Jessica Swain, director of infection prevention and control at Dartmouth Health.
The United States is currently experiencing an early uptick in flu and respiratory syncytial virus infections, straining a healthcare system trying to recover from the worst of the COVID-19 pandemic. In addition, healthcare facilities continue to try and keep up with evolving guidelines from the CDC, CMS, and OSHA.
Patnode and Pierce share the latest in COVID-19 infection prevention strategies, such as how Medical Centers make decisions around masking and building a framework so staff can easily understand what actions to take. They explain how Cheshire Medical Center navigated patient visitation, how protections related to the unknown affected staff and patients, and how policies have evolved. Patnode discusses when to test for COVID-19, given the wide range of symptoms people experience and other respiratory viruses circulating in our community.
"The latest CDC guidance has updated to allow facilities to flex when community transmission levels are low. Most of the US, including New Hampshire and our neighboring states, are in the red," Patnode said. "At Dartmouth Health facilities, our guidance remains unchanged. We continue to follow the CDC guidance for masking, requiring universal source control, especially in public areas or when patients are encountered."
Philip Adamo, MD, MPH, section chief and medical director of Occupational and Environmental Health and Well-being at Dartmouth Health, also joined the conversation to discuss the evolution of occupational health concerning COVID-19.
Michael Calderwood, MD, MPH, chief quality officer at Dartmouth Hitchcock Medical Center, offered insights into vaccination and the future of COVID-19 management.
Click here for a link to listen, or search for "The Cure" wherever you get your podcasts.
The information shared in this episode is meant for medical education and should not be considered medical advice.