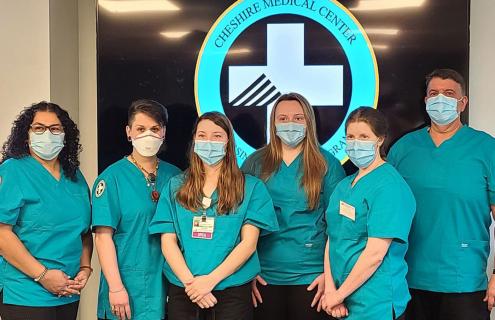 Cheshire Medical Center is pleased to announce its new Nurse Assistant Training Program at Cheshire. The first cohort of students started Monday, March 29, 2021. The program provides a pathway to becoming an LNA, an entry-level position in health care, and builds a strong foundation for a rewarding career.
"Nationally, there are significant shortages in several health care occupations, including nursing assistants—and that is a problem we face in our region," says Workforce Development Specialist, Sarah Tatro. "This program allows us to train the workforce we need to serve our community. We're also working with community partners with LNA shortages to offer this program to their employees. As the area's largest health care resource and leading employer, we respect the role we play in the region. Developing our workforce through these types of programs is essential."
The program, approved by the New Hampshire Board of Nursing, is the newest of Cheshire's education-based recruiting efforts, which allow students to earn while they learn with an offer of employment upon completion. It features a combination of classroom instruction, skills lab, and clinical training taught by Cheshire staff on-site at the Medical Center.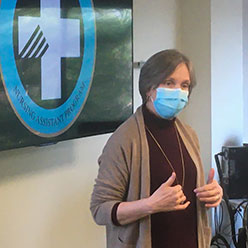 Students admitted to the program are Cheshire employees and earn a training wage while they learn. Cheshire sponsors the cost of the training program. This program's enrollment runs from March 29 through May 4, 2021, when candidates will take the New Hampshire State Competency exam. Upon completing the program and obtaining a Nurse Assistant license, participants start working as full-time Licensed Nurse Assistants, either in an inpatient unit at Cheshire or for one of our community partner organizations. The anticipated start date of employment for individuals in this cohort is May 17, 2021.
Licensed Nurse Assistants (LNAs) are the heart of medicine and serve as the foundation of health care teams. LNAs work under the guidance of registered nurses and other medical workers. Much of their work is spent directly with patients. Successful LNAs enjoy working with people, are effective communicators, and act with dignity and integrity. They are team players, engaged, thoughtful, compassionate, courteous, and respectful.
"My first health care job—if you don't count being a candy-striper—was as a nurse's aid, and I learned a lot about caring for people," says Cheshire's Chief Nursing Officer, VP of Patient Care Services, Amy Matthews, RN, DNP, CENP. "I encourage staff in our LNA program to continue their career with us as LNAs as partners in care, and also to consider other future health care career options. Whatever their goals, we have opportunities and support here at Cheshire."
LNAs perform many responsibilities, including the following:
Obtain and record patient vital signs, temperature, pulse, height, weight and blood pressure, intakes and outputs
Document in patient's electronic medical record
Assists the RN – tasks delegated by their direct care RN
Assist other LNAs with designated assignments
Assist with discharges/admissions
Keeps room/unit clean
Provide exceptional patient experience and care
Classes for LNAs, Medical Assistants, Pharmacy Techs and more run throughout the year. For more information and to sign up for an information session, visit Dartmouth-Hitchcock's Workforce Readiness Institute's website.