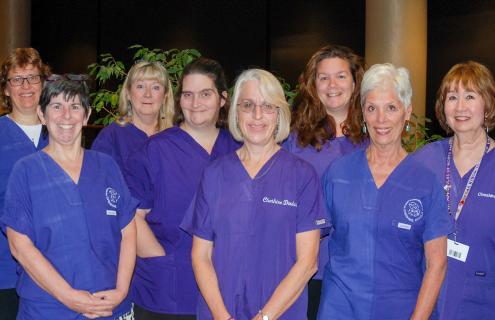 There came a moment in Kristen Wilson's labor when she was perched on the edge of a chair.
"I didn't want to sit down. I didn't want to get out of the birthing tub in the first place!" remembers Kristen. She'd been stuck at a 9-centimeter dilation for six hours. Her nurse-midwife at Cheshire Medical Center counseled Kristen to try to relax to dilate the final centimeter. "I was moaning and pacing, but Janet, my doula, she got me to sit down, and she began to rub my shins and calves."
Kristen can't remember how long this moment lasted. "What I remember is that I relaxed. I was in a different space with the pain because everything quieted, I quieted."
The Cheshire Doulas are a group of highly-trained volunteers who provide birthing parents with free, continuous physical, emotional, and informational support during labor. This group of amazing professionals, led by Cheshire Doula Coordinator Marilyn Buck, has partnered with Cheshire's labor and delivery teams for 20 years.
She helped me know I could do it.

Kristen Wilson
"A lot of times in labor, you need two people helping you move. The nurses are amazing, but shift changes happen, so if you have a long labor, you'll see a few different people. Having a doula be with you the entire time, hauling you around, helping you, is incredible," Kristen says.
Janet was the second experience with a doula for Kristen and her spouse, Sarah. About five years ago, when Sarah was pregnant with twins, Marilyn Buck guided them through a long, medically complex labor.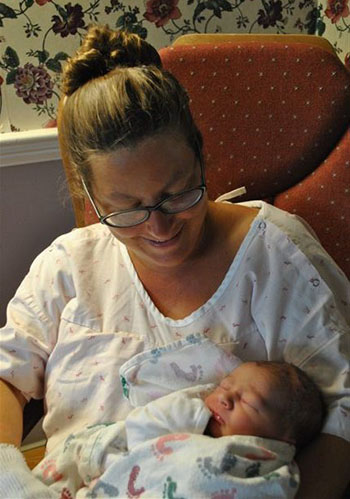 "When it's your first time, it can be hard to differentiate between what you think is the right thing to do and what a medical professional says," notes Kristen. "So having someone who is knowledgeable and understanding, and supportive of your priorities, really helps you navigate the process."
Sarah Frankel experienced doula support in 2013 during the birth of her first child. "Marilyn was the doula on call that day. I hadn't been fully aware that doulas were available like that, and I didn't know that I wanted one until I was in the middle of a long, difficult labor."
Marilyn arrived in the thick of things. "I was losing confidence in myself, and I was anxious about what was going on," Sarah says. "But then I had someone who was truly focused on me, who had been through these experiences. She was able to convince me that I could do it, in a very positive and supportive way."
Sarah notes the doula services are remarkable. "We are incredibly lucky to have doulas available, particularly on-call. In other places, people have to pay for this kind of care. When I had my second child, even though it was a much different birth, I knew I wanted Marilyn there. She was the constant, calm voice telling me I knew how to do it, even when I didn't think I could."
Cheshire Doulas is celebrating their 20th year of supporting birthing parents at Cheshire Medical Center's Women's Health department. The learn more and connect with a doula for your labor, contact the Doula Program office at doulas@cheshire-med.com or call 603-354-5454 x2270.