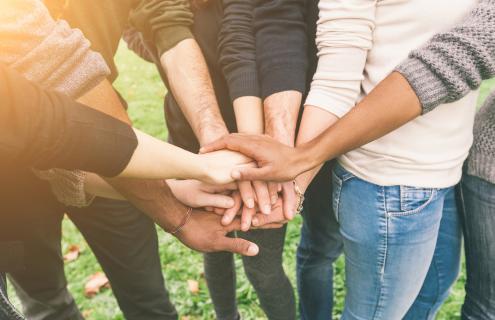 Recovery (noun): a return to a normal state of health, mind, or strength.
The dictionary's definition of recovery suggests a destination to the vague state of "normal." However, for roughly 25 million Americans—about one in 10 adults in the United States—their recovery is often a lifelong journey of learning to live without mind-altering substances.
Just as the path into addiction is gradual, so is the path into recovery. People enter into recovery for a number of reasons; one of the most common is that they are just "sick and tired of being sick and tired."
To understand recovery, it is helpful to understand addictive behavior. People with a Substance Use Disorder (SUD) typically display some or all of the following warning signs:
Wanting to control their use but being unable to do so
Needing more and more of the substance(s) in order to get the same satisfaction
Continued use, despite negative consequences (physically, legally, socially, professionally or scholastically)
Being secretive about their use
Experiencing symptoms of withdrawal such as tremors, anxiety, irritability, sweatiness, and rapid pulse when stopping use
Since 2019, the Doorway at Cheshire Medical Center has worked with community partners to assist people with Substance Use Disorders.
In 2018, Cheshire County had the third highest SUD mortality rate among the ten counties in the state, according to the NH Medical Examiner's Office (4.11/10,000 or 32 deaths). It was a crisis for families in many of the rural towns in our area, and very difficult to find access to treatment even when a person was motivated to seek help.
We are pleased to report that Cheshire County is in recovery, as the 2021 overdose death rate for Cheshire County was 1.28 per 10,000 residents. This now places our rate below six of the ten New Hampshire counties. While even one death is a tragedy for that person's loved ones and our community as a whole, it is important to acknowledge our progress.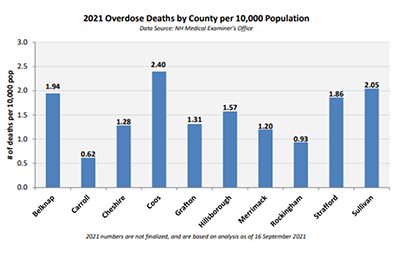 As we celebrate Recovery Month, we implore our community to continue the efforts that have led to lowered mortality and improved health in Cheshire County.
If you or a loved one are struggling with a substance use disorder, The Doorway at Cheshire Medical Center is here to help. We offer the following:
Evaluation.
Medically assisted recovery.
Outpatient individual and group therapy.
Referrals for treatment and supportive services.
The Doorway is open at 24 Railroad Street in Keene from 10 am to 5 pm Monday through Friday and can be reached by calling 2-1-1.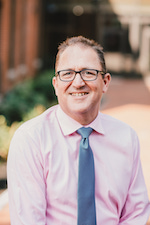 Nelson works with a team of dedicated recovery professionals at The Doorway, located at 24 Railroad Street in Keene. Nelson and his team were honored in 2022 by the American Hospital Association with the Dick Davidson NOVA Award for their innovative and collaborative program and work addressing one of our nation's most pressing health challenges.