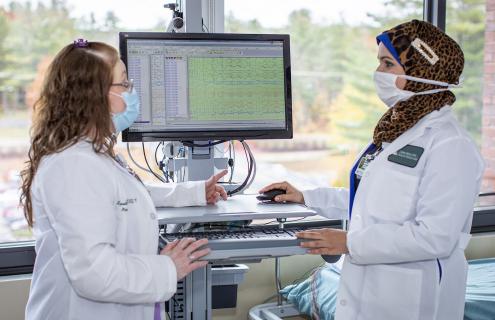 Cheshire Medical Center's extensive range of on-site programs gives patients in the Monadnock Region access to an impressive breadth of services close to home—and we've just added more with a state-of-the-art electroencephalogram (EEG) and expanded Neurology department.
An electroencephalogram (EEG) is a diagnostic test that measures electrical activity in a patient's brain using small metal discs (electrodes) attached to the scalp.
EEG tests are ordered by neurologists, primary care providers, emergency care providers, and hospitalists. The test is used to diagnose or detect any of the following: brain tumor, brain damage, brain dysfunction, epilepsy, head trauma, inflammation of the brain (encephalitis), stroke, sleep disorders, and other seizure disorders or diagnoses.
Appointments for this test are now available at Cheshire Monday through Friday. A full-time, Registered Electroencephalographic Technologist runs tests. A Cheshire neurologist who specializes in EEGs reads the data, and the report is available within five business days.
Once a provider orders an EEG, Cheshire's EEG tech, Anne Spelas, R.EEG.T, will contact the patient directly to schedule an appointment, review the test, and answer questions. Spelas is a highly regarded EEG tech with extensive expertise, which she now brings to Cheshire. Most recently, she spent over a decade at Dartmouth-Hitchcock Medical Center (DHMC).
"I wanted to get all the experience I could, and I knew working at DHMC would be invaluable toward that goal," Spelas said. "They handle anything and everything that you could ever imagine—from neonates to people who are 110 years old. Anything that you could read about in a neurology book, I got to see first-hand at Dartmouth-Hitchcock. I am thrilled to be part of Cheshire's Neurology department to deliver state-of-the-art EEGs to support patient care in the Monadnock Region."
Spelas' expertise allows for this technology to be used to its fullest potential. Data from the tests are interpreted by Cheshire's neurologists, Zainab Alalawi, MD, and Valerie Gendron, MD. Dr. Gendron reads for her patients primarily, while Dr. Alalawi— who oversees the EEG program—reads all other administered tests.
Cheshire is also pleased to welcome Anya Turetsky, MD, to the Neurology department. Prior to coming to Cheshire, Dr. Turetsky spent the past four-plus years as a neurologist with the Emerson Neurology Associates at Emerson Hospital in Concord, Massachusetts. Dr. Turetsky was a Neuromuscular Fellow with the University of California Los Angeles' Department of Neurology, Neuromuscular in Los Angeles. She did her residency with the University of Massachusetts' Department of Neurology in Worcester, Massachusetts. She holds a Doctor of Medicine degree from Saint George's University in Grenada, West Indies. Cheshire Medical Center advances the health and wellness of the Monadnock Region through a combination of outstanding care and exceptional service. For any questions about this new service, please call Cheshire's Neurology department at 603-354-6511.