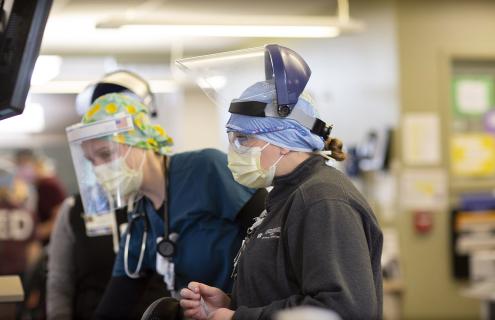 Dear Monadnock Region,
Cheshire Medical Center is facing challenges, the likes of which we have never seen in our 130-year history. As COVID-19 sweeps through our community, with infections and hospitalizations continuing to climb, we expect the situation to worsen through the coming weeks or possibly months.
Our existing resources are overwhelmed, so as we prioritize care for the patients who need it the most, the care you experience may be different from what you may expect under normal circumstances. We need your support, understanding, and forethought in planning your medical care during this crisis.
Our Medical Center is extremely busy
The current volume of patients needing emergency and inpatient care is straining our capacity, and we expect volumes to increase. In addition, many people delayed care earlier in the pandemic, causing a current increased need for medical services. We have re-purposed areas of our hospital and reallocated staff from all areas of the Medical Center to care for the most critically ill patients.
We have delayed or suspended some services
At the beginning of December, we suspended all non-emergent procedures to prioritize beds and staff to care for critically ill patients. We employed a restrictive Red-Level Visitor Policy in October.
Wait times may be longer
Due to the increased need for services and the reallocation of staff to care for the critically ill, wait times for non-emergency needs are longer. While we have increased staff to emergency and urgent services, the volume of patients currently needing those services is also causing delays in care. Please plan your medical care accordingly and bring patience and kindness to those helping you.
Prescription renewals may take longer
Please check how many refills are left on your prescriptions and plan ahead when you need to renew a prescription with your provider's team. Please request renewals one week in advance; we now require 7 days to process prescription renewals. The easiest way to renew prescriptions is via your myD-H account.
Our staff needs your patience and kindness
These challenging times are frustrating, especially when struggling with medical problems. Please know our staff are doing everything possible to care for our patients. Cheshire employees—people who are your neighbors and friends—need your patience, support, and encouragement during this crisis.
Please help: Take action to be part of the solution
Get vaccinated and boosted
The most important thing you can do is get your booster or initial vaccination series against COVID-19 and encourage those you love to do the same. The available vaccines have been proven safe through rigorous testing. Recent vaccination and boosters are effective at reducing severe illness requiring hospital care, and mass vaccination is our way out of this pandemic. Learn more on our COVID-19 Vaccination page.
Slow the spread
Since there is a chance even asymptomatic vaccinated individuals can spread COVID-19 to those who could become severely ill with it, follow proven scientific guidance for protecting yourself and others. Mask up, avoid gatherings, physically distance, and sanitize your hands.
Our commitment to the region is unconditional. As the Monadnock Region's leading care provider, we've been a source of hope and healing since 1892. Please support us by practicing patience, following the scientific guidance, and make choices that help us all out of this pandemic.
Sincerely,
Don Caruso, MD, MPH
CEO and President, Cheshire Medical Center