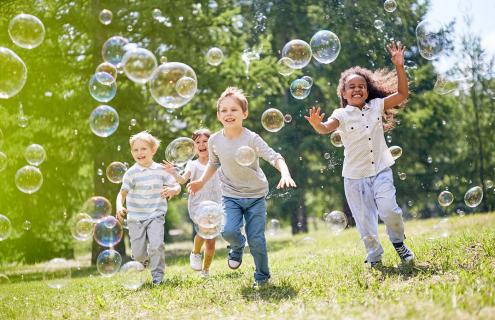 Cheshire Medical Center's primary care providers (PCP), such as pediatricians and family medicine providers, saw a drop in well-child visits and on-time immunizations since the pandemic began. As classes end and cases of COVID-19 recede in our area, now is the time to get their care back on track.
Well-child visits are different from visits for specific medical problems, like same-day urgent primary care visits, in that they focus on care that prevents medical problems in your child's future. Visit How to Get the Right Care if you want to learn more about the different ways you and your child can access care at Cheshire.
"Regular check-ups are very important for children," says Deborah R. Hansen, MD, pediatrician at Cheshire Medical Center. "The physical exams, screenings, and immunizations we give during regular well-child visits usually coincide with specific developmental stages in your child's growth. Most kids should be seen once a year if they seem in good health, but children younger than three should see their primary care provider several times a year."
If you face financial barriers to getting the care your kids need, our Family Resource Counselor is here to help. You can get help reducing the cost of insurance premiums and picking the right plans for your situation, calling pharmacies to find the cheapest prescription refills, or looking for assistance programs to help you make ends meet. This year, anyone who bought insurance through healthcare.gov could reduce their insurance premiums until August 15th, and Ruth is standing by to help. Read her Spring 2021 interview to learn more, or visit our Family Resource Counseling page.
Physicals and labs
Physical exams, along with vision and hearing screenings, can help spot potential physical problems early. Routine lab tests for lead or anemia (iron deficiency) are essential for your child's healthy development. These visits also give your child or teen's primary care provider (PCP) a chance to talk to them about nutrition and behavior.
Immunizations
Making sure your children are up-to-date on their immunizations is one of the best things you can do to protect them against some pretty serious but preventable diseases. While vaccination schedules vary according to your child's individual needs and family history, Cheshire's Pediatrics team provides a sample immunization schedule. Delaying these shots puts your kids at risk of getting preventable diseases that can cause lifelong disability or death. This is especially true when many other children are also behind on important immunizations, so diseases can more easily spread.
"Vaccines are very important," says Dr. Hansen. "There's a lot of misinformation about them." So please bring any questions you have for your child's PCP regarding possible misinformation you read on social media or the internet.
Developmental milestones
In addition to this preventative care, your pediatrician or family medicine provider also checks in on major developmental milestones. The American Academy of Pediatrics lists ten physical, social, emotional and cognitive milestones to watch for as your child grows. If your child is experiencing a delay or you are concerned about their development, your pediatrician is there to advise you on your options so you can make the best choices for your children.
Pandemic-related problems
While unprecedented in all of our lifetimes, the pandemic has posed specific problems for children at each developmental stage. Many children and teens have struggled with mental health, lack of exercise, irregular sleep, social isolation, unhealthy weight, behavior problems, and an overabundance of screen time during the pandemic. Your child's PCP can address these and offer advice on healthy age-specific coping strategies and the development of healthy habits.
Make a well-child appointment
If your kids need well-child visits or immunizations, please make an appointment with their provider's office.
If you prefer a pediatrician, rather than a family medicine provider, to care for your child but have been unable to this year, please contact Pediatrics. A new provider will be joining the team in the Summer of 2021, expanding the department's capacity for new patients.