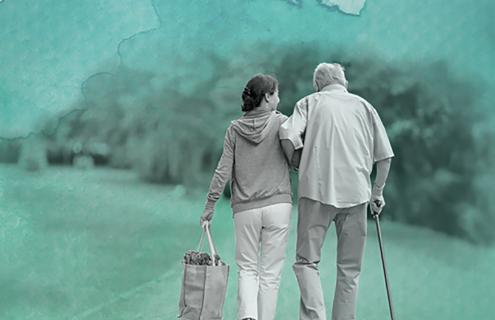 Cheshire County leads our state in the percentage of residents diagnosed with dementia. More than 15% of the Medicare recipients over age 65 in Cheshire County are living with Alzheimer's Disease or another form of dementia, greater than both national and New Hampshire county averages.* For caregivers in the Monadnock Region, help and support are available through a network of resources.
*(according to 2015 reports from the Centers for Medicare & Medicaid Services)
My mom had a stroke when she was 85," relates Robyn Nattila. "As a result of that she was left legally blind, with diminished hearing, and it started her down the road with dementia.
"Mom was born and has lived in Gilsum her whole life," Nattila continues. "She and her significant other have lived in a small house here for many years, and it's a source of comfort for her."
But after her mother fell yet again and couldn't make it up the stairs to bed—Nattila moved in with her temporarily, until her mom was better able to navigate the stairs. Or so she thought.
"I got a good dose of reality when I understood how much she was wandering at night," Nattila says.
"It would have been easier for me to bring her to my home," she admits, "but with dementia, it's important to keep things consistent and offer her the familiarity of her own home. I want her days to be as comfortable as they can be."
Nattila works full time, so she relies on a private company that provides in-home care to tend to her mother five days a week while she's at work. Nattila is her mother's primary caregiver the rest of the time.
"My husband is a saint," she says. "He knows this is something I have to do."
66,000 caregivers in New Hampshire alone
It's something that tens of thousands of other New Hampshire residents also have to do. The Alzheimer's Association estimates that, in 2016, there were 66,000 Alzheimer's and dementia caregivers in our state who provided 75 million hours of unpaid care valued at $954 million.
What's more, the number of older adults with Alzheimer's and other forms of dementia will only continue to grow as our population ages—increasing the demand for care. In 2017, 24,000 New Hampshire residents 65 and older are estimated to have Alzheimer's alone—a number expected to reach 32,000 by 2025. That's a 33.3% increase.
In response to this burgeoning need, Cheshire Medical Center has assembled an array of resources for people with dementia and their caregivers.
After an initial diagnosis of dementia from a patient's primary care provider (PCP), the PCP often will refer the patient's caregiver to a nurse care coordinator on Cheshire's Family Medicine team.
A first line of support for patients and caregivers
"We're the first line of support," explains RN Care Coordinator Sue Szydlo, RN. "I meet with the patient and caregiver as soon as possible after referral. Among the first questions I ask are, 'Are you safe?' and 'Is your loved one safe?' Are they wandering, unable to manage their medications, falling, trying to drive or use the stove? These are all risks for harm."
Szydlo then seeks to identify where help is needed—medication management or meals, for example, or personal care (dressing, bathing). Or is the person with dementia exhibiting aggressive behavior, depression, or anxiety?
Szydlo also promotes the caregiver support group offered by local partner organization, Home Healthcare Hospice and Community Services (HCS). HCS offers a wealth of community-based supportive services including home care, Meals on Wheels, private-duty services, and medical social work—all aimed at helping people remain at home as long as possible while supporting the caregiver.
"Caregivers often don't prioritize their own needs," she says, "which is unfortunate, because how they care for themselves directly impacts their ability to care for their loved one."
The Castle Center: adult daycare, peace of mind for caregivers
Another important resource offered by HCS is the Castle Center, an adult daycare facility that offers a Life Enrichment Program—therapeutic activities tailored to the individual with mild to moderate dementia in a safe, structured setting.
"This provides peace of mind for caregivers who are still working outside the home and respite for others who just need some time to themselves," says Catherine Braught, RN, BSN, Director of Customized Care at HCS.
The Castle Center is open Monday through Friday, 8:00 am to 5:00 pm, and participants may attend as many days as they wish. A sliding scale fee is available, private pay options, VA benefits, and Medicaid are accepted. Transportation within Keene is also provided.
Geriatrics: a medical specialty focused on older adults
Szydlo also refers patients to Cheshire's Geriatrics team. Geriatrics is a medical specialty that focuses on the unique needs of older adults.
Nattila and her mother were referred to geriatrician Kathleen Miller, MD, who stresses the need for an accurate diagnosis when patients present with dementia symptoms.
"It's important to understand whether the patient has Alzheimer's disease, another type of dementia, or a secondary cause of cognitive changes that may be correctable," she notes. These diagnostic resources, which include blood work, advanced imaging, and neuropsychological testing, are all available at Cheshire.
"When it comes to treatment, we not only address the dementia itself but also mood issues such as anxiety and depression, and related behavioral issues," Dr. Miller continues.
It's a comprehensive approach that makes a world of difference to patients and their caregivers.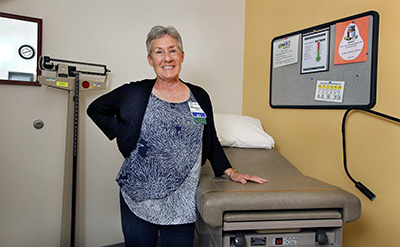 "I feel part of a team now"
"Once Mom and I started seeing Dr. Miller and her nurse, Jane [Bridges, RN], we were no longer alone," Nattila says. "Instead of treating Mom's symptoms, Dr. Miller treated Mom. She doesn't just look at medications; she looks at the situation holistically to figure out how she can contribute to creating quality of life for Mom. Jane and I speak so often that she recognizes my voice. I feel part of a team now."
"I'm an advocate for our patients and their families," says Bridges of her role on that team. "I listen, clarify when necessary, and share information with the health team and community resources in order to get answers for people."
"Mom is lucky that we have a great support system in addition to her medical care," Nattila says. "In addition to Mom's fabulous caregivers, my husband and niece are lifesavers. My niece relieves me one night a week so I can have date night. My employer has been very supportive with family medical leave and allowing me to work from home when necessary.
Taking care of dementia patients is truly a team effort. No one entity can provide all of the support needed for patients and caregivers.

Sue Szydlow, RN Care Coordinator
"Mom's partner is extremely good with her," she continues. "Mom also has some special neighbors who treat us very well, and a church and community that remind her she's not forgotten. And she has family that visits every week—including a nine-year-old great-grandson who, with a simple hug, makes all of Mom's issues for the moment just slip away.
"Without all of these pieces of the puzzle falling into place, we wouldn't be able to do this for Mom," she adds.
"You don't think you'll need these resources until you do," Braught says, urging family members to not wait until there's a crisis to seek help. "Understand what's available, know that you're not alone, and ask for help when you need it. That's why we're here."
"And say 'yes' anytime someone offers help," Nattila says. She also offers this advice to others who are caring for a loved one with dementia: "Have patience—much easier said than done. Be flexible—because nothing will ever go as you plan. And celebrate every happy moment!"