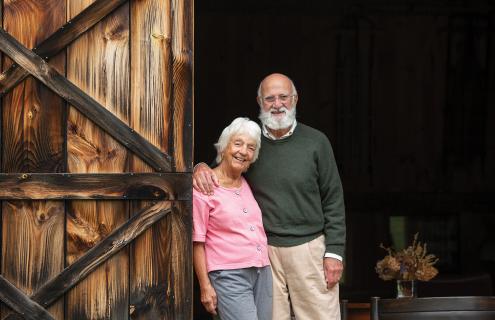 I cannot emphasize enough how much it mattered to have the family connected to the patient.
Carol Theodore
On the evening of Saturday, March 28, Carol Theodore was sitting in her car in the parking lot of Mount Ascutney Hospital in Windsor, Vermont. Inside, doctors had spent eight hours trying to figure out what was wrong with her husband, Eustace.
Due to the burgeoning pandemic, Carol was not allowed to be beside her spouse of 57 years. Sitting alone in her car as the rain fell, she had no idea what was ailing Eustace, and she couldn't be sure she'd ever see him again.
Then she got a phone call from the nurse inside. Tests were still pending, but a chest scan had found pneumonia, a possible indicator of COVID-19. Eustace would be rushed to the Intensive Care Unit (ICU) at Cheshire Medical Center. Carol could still not accompany her husband. But that phone and the nurses and physicians on the other end of the call would be Carol's lifeline to Eustace during one of the most trying times in their lives.
"During the time he was in the hospital, I was totally isolated at home," Carol says. "It was very anxiety-provoking for me and our two sons in New Hampshire and California, because no one could travel. They couldn't visit their father or know if they ever would see him. I cannot emphasize enough how much it mattered to have the family connected to the patient."
Throughout their marriage, Eustace and Carol had often been physically separated. His work as an education consultant had kept him in Washington D.C. while her jobs as a lawyer and ski instructor had rooted her in Vermont. But the couple had always maintained a close emotional connection strong enough to bridge that distance. And every March for the past 20 years, the Theodores have traveled together to the United Kingdom, where they shared their love of horses at the annual Cheltenham Festival races.
But when they returned to the U.S. on March 14, they landed in a country just starting to come to grips with the pandemic. The Theodores knew about COVID-19. They knew that it was already in the U.K., where they had just spent four days packed among 60,000 horse-racing fans, and they knew that they should shelter in place for 14 days. They would do so in Vermont, together.
Neither Eustace nor Carol had a fever, shortness of breath, or deep cough—then the only recognized symptoms of the coronavirus. But after a few days, Eustace lost his appetite. More concerning, he was suddenly having trouble finishing sentences, stopping mid-statement to repeat himself over and over. Their two sons thought he was having a stroke and urged him to go to the hospital. That's when Carol drove him to Mount Ascutney, where he was later transferred to Cheshire Medical Center for more acute care.
Later that night, at about 1:00 am, the nurse in the Cheshire ICU called Carol and told her that Eustace's condition had worsened and that he would need to be intubated. They said that she could send her husband's iPhone and iPad, but of course, he'd be unable to speak while on a ventilator. Instead, she arranged for a doctor or nurse to call her every morning to discuss decisions about Eustace's care, report on his progress from the night before, and inform her of the plan for that day. Then Carol would call back later in the afternoon for an update.
Eventually, she was able to FaceTime in and at least get a sense of her husband's room and see the masked faces of people caring for him.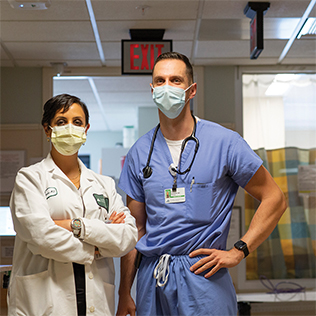 "It was important to me to keep Carol in the loop," says Dr. Hala El Chami, the pulmonologist in charge of Eustace's care. "I knew she was home worrying and wondering what was going on every minute. People in the ICU can deteriorate quickly. It's minute-to-minute, hour-to-hour. Just having those small conversations were helpful for her and helpful for us—she could help guide us on what sort of care she and Eustace would want him to have."
Meanwhile, the hospital was also dealing with one of its first COVID-19 patients. Though relatively little was known about the coronavirus and proper treatment, Dr. El Chami and the staff knew that it could cause respiratory symptoms similar to other infections and inflammations, and they had a protocol to manage that.
They quickly implemented safeguards for sanitization, setting up a buddy system to monitor the donning and doffing of protective suits and masks to ensure the containment of infection and the safety of the rest of the hospital's patients and staff. They also rotated the staff around Eustace so that everyone could gain valuable experience in dealing with this burgeoning pandemic.
After five harrowing days, Carol got the call that Eustace had recovered to the point that he would be taken off the ventilator. He was groggy at first, but after a few more days, he could get up and use the bathroom sink with the help of a nurse.
Carol was able to FaceTime with him through this progress, to see and hear her husband for the first time in more than a week. By April 10, he was off oxygen and ready to go home.
"It was still a couple weeks before I would know for sure if I'd get him back in full mind," Carol says. "But I was glad to have him back in any form. I thought I might not ever hold him again."
Today, the Theodores are safe and well and riding out the pandemic at their home in Vermont. After some subsequent testing, Carol says that she also has the antibodies that indicate she'd had COVID-19 as well. But both are happy to be healthy—and together.
"Cheshire was the perfect environment," says Eustace via Zoom. "They had plenty of time and attention to give their patients, and it was easy for them to apply their vast medical knowledge."
"He got great care," adds Carol, happily sitting right beside her husband on the video call. "We were very lucky."
As a nonprofit institution, we depend on the generosity of our friends and grateful patients. Thank you.Gifts to Cheshire Health Foundation's COVID-19 Fund support our coronavirus response and directly benefit our front-line staff. This includes supplies, specialized equipment, technology supporting Virtual Visits, and other critical needs resulting from this public health crisis. Learn more about donating via the Cheshire Health Foundation.