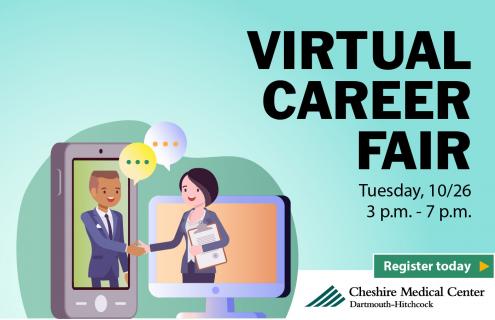 To fill a variety of positions across the organization—from operations and support roles to allied health, nursing, and more—Cheshire Medical Center will be hosting a virtual career fair open to the public on Tuesday, Oct. 26, from 3:00 to 7:00 pm via a secure online platform.
During the Virtual Career Fair, prospective employees will be able to meet one-on-one with managers from different departments about multiple positions, live from a computer or smart device.
Full-time, part-time, and per-diem positions are available. Cheshire offers a minimum starting wage of $17 per hour and comprehensive benefits. Cheshire careers begin with on-the-job training, plus opportunities to grow through many different and exciting career paths.
Visit the Virtual Career Fair page for details, directly register for the event or browse current open positions at Cheshire Medical Center.
Joining Team Cheshire
If helping people is important to you, continuing education and diverse career opportunities excite you, and you're looking for a job where your colleagues feel like family, Cheshire Medical Center is the place for you.
Across every department and every job description, our team members not only depend on one another—we look after one another. We inspire each other to attain high standards of professional behavior.
Cheshire Medical center values people and families of all backgrounds, and individuals representing every form of cultural and racial heritage, religious belief, and gender expression. Our non-hierarchical approach to sharing input helps create an environment where innovative ideas can originate from every area of the organization.
We strive to collaborate effectively, maintain a sense of goodwill and good humor, and seek opportunities to go the extra mile.
If you want to learn more about working at Cheshire Medical Center, explore our culture, read stories about members of Team Cheshire and learn about joining our community in the Monadnock Region.