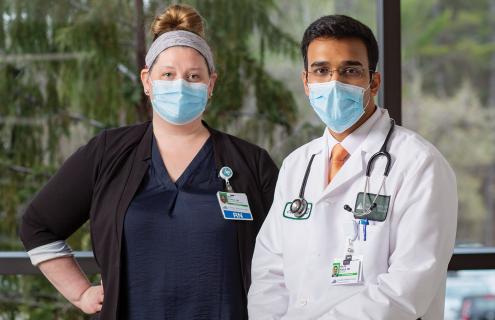 Cheshire Medical Center's (Cheshire) Senior Operations Team is pleased to announce the inaugural RISE (Resolve, Integrity, Sacrifice, Exceptional Service) to the Occasion award to recognize one or more individuals who have stepped up in an extraordinary way during a crisis or challenging period, making it possible for Cheshire to achieve its mission despite adversity. The heroic efforts made by employees during the novel coronavirus (COVID-19) pandemic inspired the creation of the award.
Cheshire's President and CEO Don Caruso, MD, MPH, presented the award to co-recipients Aalok Khole, MD, infectious diseases physician, and Mary Pierce, BSN, RN, infection preventionist, who—as members of the Infectious Disease department—guided Cheshire, its employees, and the community through the uncharted territory and long journey of the COVID-19 pandemic from its beginning in March 2020.
Dr. Khole, who started working at Cheshire in August 2019, and Pierce, who joined Cheshire in December 2019, were relatively new to the organization when the first COVID-positive patient in New Hampshire was announced in early 2020. Both played a pivotal role in guiding the organization through unprecedented challenges, along with Infection Preventionist Erin Patnode, BSN, RN, who joined the team in December 2020.
"We've honored Aalok and Mary with this award to recognize their excellence—for going well above in their roles in this organization," said Dr. Caruso. "Their dedication, wisdom, and guidance have been extraordinary. On behalf of the entire Senior Operations Team, I want to recognize and show our gratitude for your ability to meet the needs of leadership, along with every person in this organization, all of our patients, and everyone in this community."
Khole and Pierce's tireless service amidst the turbulence proactively protected Cheshire's staff, patients, and greater community. Both were compassionate and courageous and led the organization through uncertainty and fear with wisdom, expertise, persistence, and insistence on sticking to the science and their core values.
The team used a three-prong approach to infection prevention during the pandemic, which focused on:
limiting the entry of COVID within the hospital setting (universal masking, screening protocols);
developing tactics to contain and limit spread (PPE use, dedicated COVID rooms, engineering controls and converting rooms into negative pressure zones) if it does enter;
and lastly, establishing how best to treat patients with COVID while keeping employees safe (continued training around PPE use, patient transport).
In addition, they assimilated data and guidance from the Centers for Disease Control and Prevention (CDC) and New Hampshire's Department of Health and Human Services (NH DHHS), reviewed Dartmouth-Hitchcock Health (D-HH) system guidance, and studied local data. Taking all of this information, they would then adapt guidance in accordance with these policies for Cheshire's specific organizational needs.
As an infectious diseases physician — a board-certified and fellowship-trained physician who treats acute and chronic infections caused by bacteria, parasites, fungi, and viruses — Dr. Khole consults inpatients and outpatients and serves as the physician lead for Cheshire's outpatient antimicrobial therapy program, epidemiology and infection control program, and antimicrobial stewardship program.
"While remaining humble and very human, Dr. Khole helped to guide our organization, our facility, and our community cautiously through a very scary time of unknowns," said Pierce. "He remained calm, collected, empathetic, logical, and reasonable."
As an infection preventionist (IP), Pierce works to protect both patients and staff from hospital-acquired infections and serves as a facility resource in antimicrobial stewardship, data analytics, and process improvement. IPs often work in conjunction with other health care epidemiologists, infectious disease specialists, and local, state, and federal authorities.
"Mary was an absolute savior in those difficult times," said Dr. Khole. "Within a month of joining Cheshire, we were faced with looking at all our high-threat infection management protocols. It was like being thrown in the deep end of the pool. Her expertise in the field of infection prevention coupled with her love for numbers and data analytics enabled us to be one step ahead of the game at all times – to analyze current circumstances, predict future trends, and take the necessary steps to keep us all safe so that we could care for our patients effectively."
The RISE to the Occasion award provides a unique opportunity to recognize and honor the resolve, integrity, sacrifice, and exceptional service of an individual at Cheshire Medical Center who has responded in extraordinary ways during times of challenge or crisis. Going forward, the award will correspond to an event or situation that places pressure on the organization during which an employee has risen to the occasion with a level of extraordinary dedication that merits such recognition.
About Cheshire Medical Center/Dartmouth-Hitchcock
Cheshire Medical Center (Cheshire) is a Dartmouth-Hitchcock Health (D-HH) affiliate providing the communities in the Greater Monadnock Region a continuum of care spanning primary care and specialty medicine, to surgical services and acute inpatient care. For more than 125 years, Cheshire has been a key contributor to the health and vitality of the Monadnock Region. As a not-for-profit community medical center, Cheshire is deeply committed to delivering excellent care in a safe and welcoming environment. Cheshire is dedicated to being a great neighbor and serves as an integral community resource. Cheshire is the area's largest health care provider and leading employer. Along with the services delivered on their Keene campus and satellite locations, the Medical Center partners with local organizations to provide vital services and programs throughout the region. To learn more, call 603-354-5400 or visit cheshiremed.org.