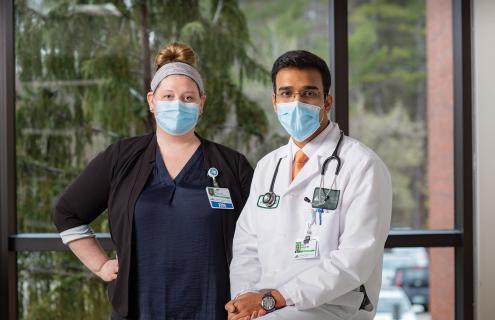 Aalok Khole, MD, didn't know that the COVID-19 pandemic was coming when he became Cheshire Medical Center's sole infectious disease specialist in August 2019. But he did know the staff and leadership take their responsibility to the community seriously.
Joining the Cheshire family
Dr. Khole is the director of Cheshire's Department of Infectious Diseases. In this role, Khole is the physician lead for the infection prevention and control program, working closely with Mary Pierce, RN, Infection Preventionist. He also helps manage the hospital's Antimicrobial Stewardship Program in close co-ordination with the stewardship pharmacists, Lani Dixon, PharmD and Dave LaCoste, PharmD.
"I am proud to be part of this family," says Khole, who graduated from Seth Gordhandas Sunderdas Medical College in Mumbai, India, in 2011. He completed his Residency and Chief Residency in Internal Medicine at Saint Vincent Hospital in Worcester, Mass., and his Fellowship in Infectious Diseases at the University of Massachusetts Medical Center, also in Worcester.
"I was looking at jobs across the country, but here, I saw how the staff and leadership pride themselves on their connection with this community." That commitment has proven true as the COVID-19 crisis unfolds, and Dr. Khole sees his decision to join Cheshire affirmed.
"We are truly in this all together," says Khole. "From the environmental services and engineering teams to the medical providers, allied staff and administration, we all know this is not a one-person job. Everyone has a role to play."
Preparations began in 2019
Soon after Dr. Khole joined Cheshire, the hospital began to test its epidemic response plans.
In July 2019, the World Health Organization declared an Ebola outbreak in the Democratic Republic of the Congo an international emergency. While the likelihood of an Ebola diagnosis here was small, this gave him and the rest of the team an opportunity to review and refine the medical center's Emergency Preparedness Plan.
"We were seeing a rise in Ebola cases around the world, so we came together as a team and started looking at how our emergency response plan might respond to a high-threat infectious disease." Khole says.
That work was very timely. "It gave us a two-month lead time on COVID-19," says Khole. "When we started seeing cases reported in January, we already knew the strengths and weaknesses of our plan. We built around what was in place and adapted to the current situation."
"Even though we have been focused on COVID-19, people are still presenting at the hospital with other infections and health problems," he says.  To respond to all these needs with the highest possible quality of care, strong teamwork within the hospital and the wider Dartmouth-Hitchcock Health system is necessary.
Caring for the community with a team effort
"This is an integrated team effort," emphasizes Khole. "I couldn't do this job without the support of each and every individual that has worked so hard these past few months. As subject matter experts, Mary and I can help drive the change, but execution becomes possible when you have a strong leadership and a motivated workforce. It's also been extremely helpful to be part of a larger system that can offer apt guidance and a unified message to its community." ­­­
The strong sentiment that we'll get through this together, that everyone has a part to play to support each other at the medical center, and throughout the community, is demonstrated by staff and patients daily.
"Before I came to Keene, I had heard that Cheshire Medical Center has this feeling of being part of a family," says Khole. "Now I have seen it in action."
"My wife and I both feel it's nice to be part of a community that is friendly, respectful and appreciative of what their hospital and its providers do to keep everyone safe and healthy.
"Our community is also doing a really good job of preventing the spread of this virus and are currently successful in flattening the curve.
"The key piece to understand is that we are comfortable right now because of what we've done as a community over the past 6 to 8 weeks. Had we not done that, the numbers of people infected or dead would be very, very different.
"We still need to practice social distancing, hand hygiene, and wearing masks that cover our nose and mouth in public places; and whenever we are ready to open things up it has to be in a very careful matter and a calculated fashion. I truly wish to thank every person for doing their part."